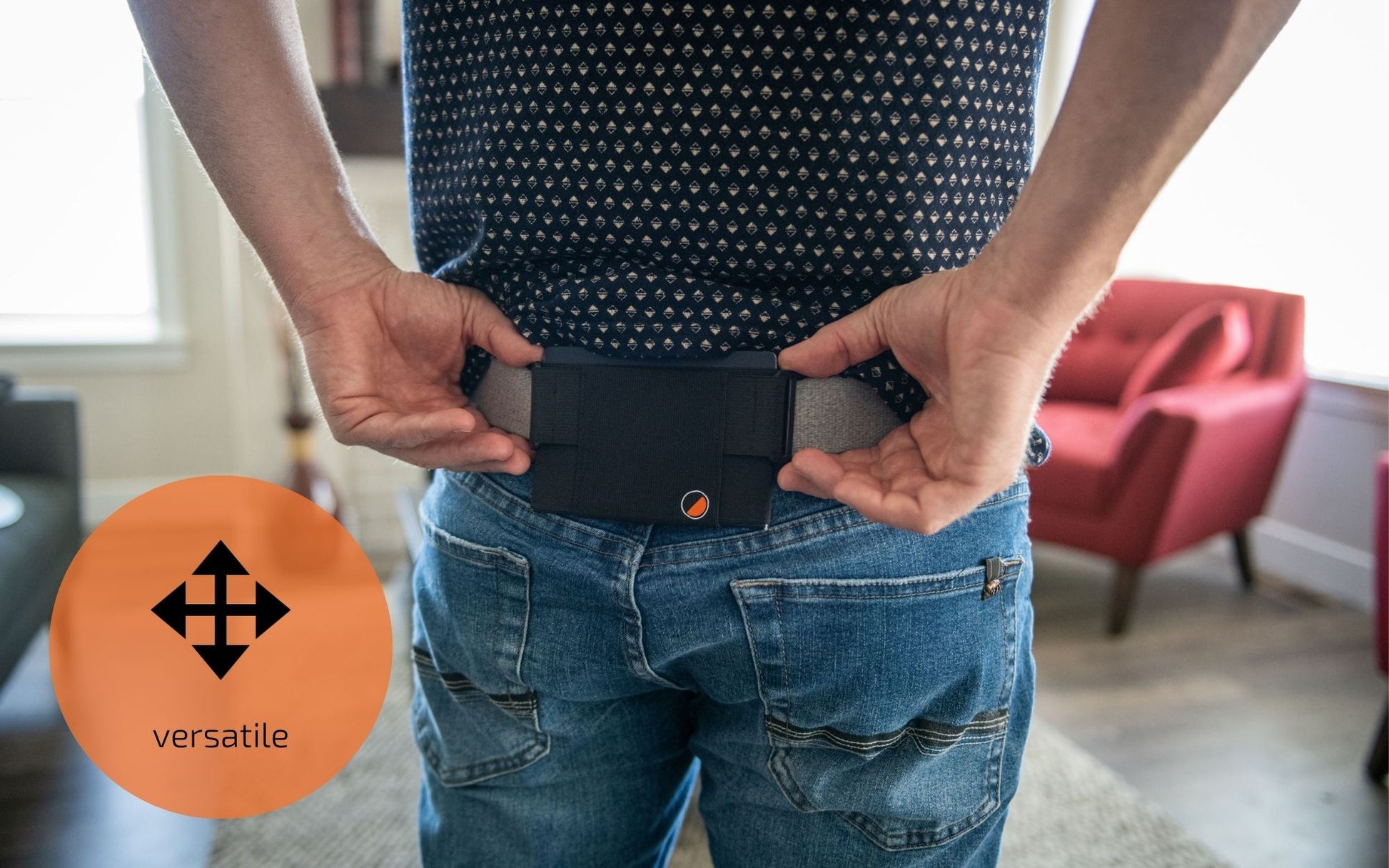 Sale price
$10.00
Regular price
$16.00
XL Phone Pouch
Sale price
$10.00
Regular price
$16.00
Very Convenient Phone Pouch!
I really like this phone pouch! My phone fits in it perfectly, and it saves my pockets for other needed items when I'm on a walk or a bike ride. Thank you for another great product!
Useable, Versital & Durable!
The "One80" phone pouchs are a One80 degree change from what is out there!  I have used leather cases, plastic slide in cases & clip in cases.  The leather cases wore out fast.  They show scratches,  the stitching wears out or breaks, the leather on the belt clip comes apart, the lining of the case brakes down from the phone & the hidden magnets rubbing on the material, bulky & getting caught on seat belts, chairs, etc.  The plastic clip cases are also bulky, getting hung up on things, breaking or wearing out clips & conections.  Also a phones shell cover goes with the case size & style so when you change phones you need new cases & holsters.  Even if you use just the phone it is handy to have a place to put it.  Pockets very in location & size, so the phone has a chance of getting lost or breaking if you are not paying attention to it.  The One80 pouchs let you do what you want without worrying about weather it will fall out, get stolen, where to put it or where did I put it!  One80 pouches give you piece of mind!  After my last plastic belt clip broke when I was throughing an ice chunk off the parking lot, I looked @ 1000's of different options.  The One80 case looked good but if you are reading this you are probably just like me & want to see videos & pictures to get a better idea of how it works & what it is.  I reached out to One80 to get more info.  The Creator at One80 sent me a video link & then an XL phone pouch.  The One80 pouch is durable with strong elastic pocket that will hold any size phone tight (like my Samsung Note) with the two optional sizes.  There is a small pocket on the front that will hold cash, coins, cards, headphones, etc.  When I saw the clip for the first time I could see the Benifits of it.  It will hold tight to any strap or material it will fit on.  Like belts, backpack straps, visors, pants, bags, pockets, coats, hats, One80 light assesories, etc!  And it is sleek enough to go in a pocket if you are wearing a coat in the winter.  My first thought was the clip looks plastic & might break under stress.  When I received the One80 XL phone pouch I was overjoyed to find that the clips are made of a hard metal & would be almost impossible to break.  The clips go on straight then tilt in toward the pouch due to the stretch in the material.  That is what gives it a good grip to hold it on tight after you get the clips on,  which grip tight all on there own due to the design of the clip.  I think that the One80 phone case is built well to last, simple to use with a good look, slim design that does not get hung up, versital enough to go on or in almost any thing & if the phone changes the case doesn't have too.  You could even use it diving or swimming if your phone is water proofed.  I hope this is helpful information!
Great with scrubs
I have to wear company scrubs which only have a chest and back pocket. Both of these are too small for my phone to fit in snug so having this pouch allows me to keep my phone secure as I'm running around
Use Mine Daily
I recently misplaced my XL Phone Pouch and was lost!! My daily walks with my dog became frustrating as I struggled to find a place to tuck my phone so that I could listen to my book while I walked. After being without it for several weeks, I finally ordered another...in fact, I ordered a spare so that I won't have to be without it again! This product makes taking my phone on my walks so easy and I won't be without it!
Product description
Shipping & Return
The One80 Pouches use no magnet, no velcro and no zipper. They require no pocket or belt to provide you with an easy and safe solution for carrying your phone, cards and cash.
Fanny packs and running belts are great; but what if you don't want to carry that bulky thing? Or just want something more discrete? One80 Pouch is for you. Perfect to carry your phone on a run and inconspicuous enough to wear with almost anything out to a movies or dinner. Wearing leggings or jeans? With or without a belt? You can comfortably wear any of these with the One80 Pouches.   
In front, in back, on the side? Or maybe partially on the side or somewhere in between. Wear your pouch how you like.  
Even if you're not wearing it on you waist it's perfect for the inner pocket of your backpack or purse. Have you ever lost your wallet to bottom depths of a bag? Use your pouch to keep it attached inside the bag exactly where you need it. 
Shipping cost is based on weight. Just add products to your cart and use the Shipping Calculator to see the shipping price.
We want you to be 100% satisfied with your purchase. Items can be returned or exchanged within 30 days of delivery.