-Cera E. | Ultra Marathon Runner
"I got home after my run, and forgot I was wearing it!"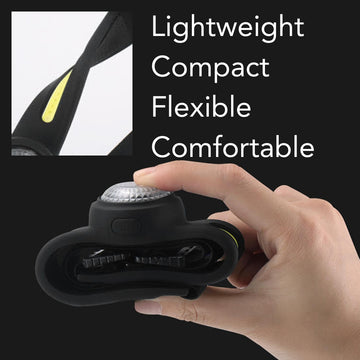 Weight = 4 empty aluminum cans.
The 650 Lite and 550 Lite have been meticulously crafted to be lighter and less bulky than ever before.
These lights provide unparalleled comfort during your runs.
Unmatched Comfort
Say goodbye to bulky battery packs, cords, and uncomfortable sliders and clips. The One80 Lite series prioritizes your comfort with its minimalist design, ensuring an optimal fit on both the waist and head straps. You'll hardly notice you're wearing them!
Enhanced Safety
With a 180-degree + spotlight illumination, our lights provide maximum visibility, allowing you to see more and be seen better. The 650 Lite's impressive 650 lumens brightness ensures you can conquer any path with confidence. Additionally, the lights offer six operation modes, including flash and red light, further enhancing your safety during nighttime runs.
Versatile Functionality
We understand that runners have unique preferences when it comes to wearing lights, which is why we've included both waist and head straps with each light. This way, you can choose the style that suits you best and easily switch between them as desired. Furthermore, the lights are IPX4 Waterproof, so you can embrace rainy days without worry. Recharging is a breeze with the USB-C compatibility, ensuring convenient and efficient power replenishment.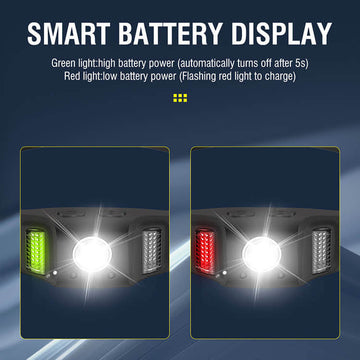 Easy Indicators
Indicator lights to help you know what the status of the battery life is.
Green to show the battery is charged both while charging and after you first turn on the light.
Red shows up when charging to show that the battery is still not fully charged and when the light is turned on and reaches low battery status.
When will my order be shipped and delivered?
This is a pre-sale. For that reason orders will not go our until our expected delivery date of August 2023. After that date we will have the lights available at retail pricing at one80light.com .
What if I'm not a runner?
The good news is the new 650 and 550 Lite are not only great for runners. Even though they were designed with runners in mind, they can be used as broadly and diversely as our other lights before them.
What is IPX4 waterproof?
The device can face light water splashes. It cannot be submerged.
When you say these lights can be used for head and waist, how does that work?
Both the 650 and 550 Lite come with a head strap and waist strap. Either can be easily added to the light for use with either head or the waist. See more on this in this overview video of the 650 light: https://www.youtube.com/watch?v=GcKNZJSR0aw
Love the wearability options
"I love the different wearability options. Being able to switch between wearing it as a headlamp or waist light is a great benefit of this light!"
Beyond a beam
"I really like that the light goes beyond a beam. The side lights add so much extra light... you can see in the bushes or even run with 2 people using this one light only. "
Better than any other light I've had
"Compared to the other headlamps and waist lights that I've had, this is the lightest one I've ever used."
Amazing!
"It's amazing!!! It's the first ever light I have had that I can't even feel that it is on me."